Published: October 12, 2017
SOLOTHUM, SWITZERLAND | Mouvent, a new joint venture from BOBST and Radex, recently three new digital label printers. Each can print up to seven colors on a large variety on substrates, including paper, self-adhesive and wet-glue label stock, and flexible materials, at production speeds to 100 mpm with a native resolution of 1,200x1,200 and optical 2,000 dpi. Central to the digital innovation of these machines is the Mouvent Cluster, a digital printing technology based on a highly integrated cluster.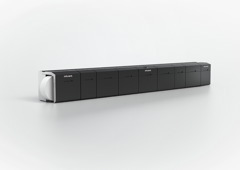 Following are the new printers:
The LB701-UV mini label press is said to offer high productivity and to be compact and ergonomic, with a very low TCO (total cost of ownership).
The LB702-UV label press reportedly allows fast and easy industrial label production at a very low TCO. Variable data printing (VDP) enables label personalization and serialization. It also has a very compact footprint.
The LB702-WB label press uses only 100% water-based Mouvent inks, making it 100% free of VOCs and 100% food safe. Company says it is now possible to produce long-lasting, high quality, eye-catching labels, using an environmentally friendly printing method, all at a very economical cost.
Mouvent CEO Simon Rothen says, "We believe we are at the start of something very special. Each one of these three machines represents a leap forward in its range, and together, they will take digital label printing to a whole new level. We look forward to bringing these to market as soon as we can so that people can benefit from this innovative technology."
The company also offers a fully integrated, complete solution: it develops, engineers, tests, and industrializes digital printers based on the Mouvent Cluster, it writes the software around the printers, develops inks and coatings for various substrates, as well as providing a full servicing offering. The company is promising a new standard in inkjet label production cost and quality, in ink pricing, head durability, quality, and machine performance.
The cluster design is the base building block for all systems, current and in development. "Our approach, central to all [our machines], is to use a base cluster which is arranged in a modular, scalable matrix instead of having different print bars for different applications and different print width," says Piero Pierantozzi, cofounder of Mouvent. "The Mouvent Cluster is the key technology behind the Mouvent machines, resulting in high optical resolution for a crisp, colorful, very high printing quality, as well as a never-seen-before flexibility and possibilities in terms of machine development. Simplicity is our engineering philosophy."
He adds that the Cluster will be the centerpiece of the company's machines developed for a wide variety of other markets beyond labels, such as corrugated board, flexible packaging, folding cartons, and more.
This email address is being protected from spambots. You need JavaScript enabled to view it.