Published: October 04, 2017
ST. GALLEN, SWITZERLAND | Gallus recently unveiled the Labelmaster Advanced line with multiweb features at Labelexpo Europe. The Advanced line's modular design is said to combine maximum flexibility with a high level of automation and to offer label printers a variety of processes, as the various finishing and printing units can be changed quickly and easily at any machine position.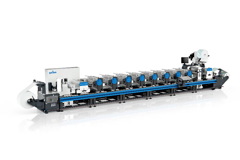 In the new platform system, the press is made up of modules each comprising two printing units. These modules are available in three different variants. The basic variant already covers all the essential label printing standards. The Plus version provides enhanced flexibility to cover many applications in the label industry, and the Advanced line can virtually meet any requirement and be configured to include as much or as little automation as necessary, company reports.
The new machine platform boasts a series of product highlights, such as a short web path of just 1.4 m between printing units and a high maximum speed of 200 mpm, making this the fastest label printing press the company has ever produced. The press can be controlled centrally via an HMI touch panel, although manual intervention is also supported, with operators being able to make changes with ease and, more importantly, very quickly, company adds, also noting that extremely short set-up times can be achieved, and the lightweight aluminum printing cylinders that were specially developed for this machine type can be changed in just a few quick steps, ensuring that job changes can be completed with high speed.
An optimized ink chamber for the doctor blade needs just 250 g of ink and therefore keeps the associated costs low while minimizing ink spitting and foaming. The newly designed flexographic printing unit, which benefits from the construction principles established in sheet-fed offset at the parent company Heidelberg, is directly driven by two servomotors. Besides being provided with flexographic printing units, the press can also be equipped with a newly developed screen printing unit that enables users to make the most of high-end finishing options
Reportedly, the register accuracy is excellent—whether the press is being run at a low set-up speed or accelerated to a high maximum speed, the printed image is always in register, without the slightest correction necessary.
This email address is being protected from spambots. You need JavaScript enabled to view it.