Published: July 28, 2017
BROOKFIELD, WI | Colordyne Technologies announces its newest innovation in digital inkjet printing, the 3600 Series UV – Retrofit. As a complement to its current aqueous-based solutions, the 3600 Series UV Retrofit is said to provide a cost-effective method for adding process color UV inkjet printing capabilities to existing converting equipment. The 3600 Series UV - Retrofit is powered by company's proprietary print engine control software, leveraging the latest in UV inkjet imaging technology.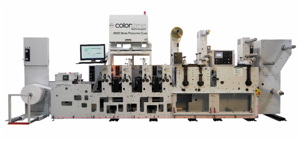 Company explains that retrofitting integrates digital print capabilities onto a wide variety of new or existing flexo press, web handling, and converting systems. This technique provides label and packaging converters an affordable path to hybrid printing while leveraging the value of the current equipment in their pressroom. The company says it now looks to take its knowledge and expertise surrounding digital retrofits into the UV inkjet market.
"There is no one size fits all approach in today's market," says Gary Falconbridge, president and CEO, Colordyne Technologies. "UV and aqueous inkjet are very distinct technologies, both providing great benefits to customers' respective applications. Offering these two complementary technologies provides companies the ability to evaluate both side by side and truly understand which is the best fit for their business."
The company developed the new 3600 Series UV print engine in response to the growing demand for digital four-color process UV inkjet retrofit solutions. Not only will the new 3600 Series UV - Retrofit leverage a similar footprint and integration method as the existing 3600 Series AQ - Retrofit, it will also feature the same front-end software and user interface. This reportedly offers users the opportunity to diversify their printing capabilities at a low capital cost.
The 3600 Series UV - Retrofit prints digital CMYK plus white at speeds to 246 fpm (75 mpm). The UV solution is available in 8.5-in. (216-mm) or 12.75-in. (324-mm) print width configurations and delivers a print resolution of 600 by 600 dpi. It uses UV-curable inks designed for a wide range of self-adhesive and flexible packaging materials, allowing customers to pursue applications that demand durability in the industrial, personal care, pharmaceutical, security, health and beauty, automotive, safety, chemical, food, and beverage markets.
"We have experienced impressive results from our current 3600 Series UV - Retrofit installations," says Falconbridge. "Working with our customers allowed us to engineer a product that we are confident will meet the market's demands for quality, speed, and price. With retrofitting in high demand, interest is building quickly around this new product. We are eager to work with converters who have been seeking this cost-effective method to incorporate UV inkjet into their businesses."
The 3600 Series UV print engine technology is currently available as a retrofit solution and will be showcased alongside the 3600 Series AQ - Retrofit at Labelexpo Europe 2017, September 25–28, at the Brussels Expo in Brussels, Belgium.
This email address is being protected from spambots. You need JavaScript enabled to view it.