Published: July 17, 2017
STUTTGART, GERMANY | Flint Group Flexographic Products announces the nyloflex FTC Digital Plate, said to provide fluting reduction on various corrugated boards from fine to rough flute. Company says the offers outstanding print quality, sharp and defined elements with precisely reproduced text and codes. Also said to feature excellent ink transfer, resulting in very smooth solids with even ink laydown, which allows for high and consistent print quality on a variety of substrates.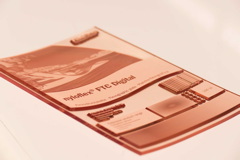 "With a continuing trend for lower quality liners due to cost reasons, however, uncompromised requirements for quality printing, printers, retailers, and brand owners demand good quality in corrugated postprint, both for superior liners and more challenging materials," says Dr. Eva Freudenthaler, VP Technology, Flint Group Flexographic Products. "With the development of the nyloflex FTC Plate, we had two focal points with regard to print quality: to reduce the fluting effect across many different liner qualities and to further enhance the quality of fine highlight screens in corrugated postprint, while at the same time keeping it simple for the prepress operation by providing a plate that can be processed like any normal digital printing plate."
Reportedly, the new plate provides the benefits of flat top dots in an easy and efficient way by processing it like any standard digital plate—no additional equipment, processing steps or consumables required. Hence, the complexity of plate making is clearly simplified, while reproducibility and consistency is increased. Company says the plate material displays the durability, robustness, high ozone resistance, and good storage capabilities that are standard for all nyloflex printing plates.
Flint adds that on the press, the new inherent flat top dot flexo plate allows for great consistency due to less dot gain tolerances, higher wear resistance, and print-run stability, also at increased press speeds. The plate ensures a reduced bump-up and consistent dot gain over the entire print run and provides cost savings and increased productivity through quick press setup, resulting in shortened start-up times and reduced waste.
The new photopolymer plate is available in several thicknesses from 2.84 mm (0.112 in.) to 6.35 mm (0.250 in.).
This email address is being protected from spambots. You need JavaScript enabled to view it.