Published: July 06, 2017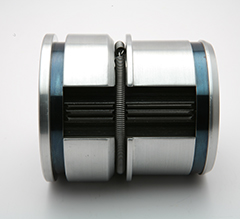 WYOMING, RI | Mechanical Specialties Inc. produces a self-locking core chuck in both steel and aluminum. Chucks have either one or three locking rollers and are divided into two classifications: shoulder and shoulderless.
The shoulder type has a 1/8-in. shoulder raised from the chuck body that acts as a core stop and reportedly assures positive core alignment. The shoulderless chuck permits the core to slide completely over it. When combined with the shoulder type, it allows sliding of the core on and off without having to remove either chuck from the machine shaft.
Features include:
Self-locking in either direction of rotation without the necessity for mechanical change.
Straight faced to assure concentricity.
Self-adjusting to the web tension pull.
Immediate gripping—no slippage.
Reduced set-up time.
All chucks are furnished with round bore sizes with +0.010 tolerance unless specified.