Published: June 28, 2017
BOXMEER, THE NETHERLANDS | SPGPrints will show e solutions covering every step in the rotary screen printing workflow for labels and packaging at Labelexpo Europe 2017, September 25–28, at the Brussels Expo in Brussels, Belgium. Displays will be centered around company's 100% nickel re-imageable RotaMesh and re-usable RotaPlate screen program. The company will demonstrate its new automatic RotaPlate Screen Cleaner, as well as its laser imaging prepress systems for rotary screen, flexo, letterpress, and dry-offset.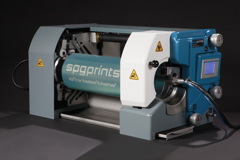 Additionally, the booth will feature information about the PIKE 700 industrial hybrid UV-inkjet press that combines high-resolution digital capabilities with extensive pre-treatment and added value finishing processes, in a single pass at high speed.
The 700-mm-wide roll-to-roll press based on Archer technology features up to ten inkjet positions in a central cylinder configuration, with CMYK plus white standard, using company's own inks that are optimized for the printhead and the machine's treatment processes. With maximum resolutions of 1,200 dpi, PIKE 700 is said to allow excellent vignettes that outperform conventional printing technology; it also enables consistent color uniformity within 1.5 DeltaE on both supported and unsupported paper and film materials up to 450 µm thickness. Color results reportedly can be compared and targets reached with virtually no material waste.
Company adds that wide substrate versatility is enhanced thanks to extensive inline web-cleaning, corona treatment, and flexo priming options. The optional integration of rotary screen printing units, seamlessly inline, enables inclusion of high-impact "look and feel" effects.
Other equipment on display will include the following:
A workbench will demonstrate company's rotary screen workflow as a flexible, low-TCO way of applying numerous brand-enhancing, functional, and tactile effects in one pass, such as the no-label look, varnishes, and Braille.
Retrofittable RSI (Rotary Screen Integration) units can be integrated with almost all label presses to perform in perfect register, inline with other processes.
rotaLEN 7511 is a direct CO2 laser engraving system for imaging rotary screens with resolutions to 5,080 dpi in one fully digital step, without film, chemicals, or water.
variLEX hybrid CtP processor is a single digital imaging solution for flexo, dry-offset, screen, and letterpress imaging—ablating and exposing in one machine.
RotaPlate Screen Cleaner is a new device that automatically develops and dries all types of screens, from Braille to fine text, in one workflow.