Published: June 22, 2017
BONDOUFLE, FRANCE | Codimag reports it will celebrate its 40th anniversary at Labelexpo Europe 2017 demonstrating enhancements to the Viva 340 Evolution and Viva 340 combination presses based on company's Aniflo printing technology. The event takes place September 25–28 in Brussels Expo, Brussels, Belgium.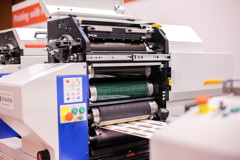 Company says Aniflo technology combines offset quality, flexo simplicity, and digital flexibility. It features an offset unit, with offset plates and a simple anilox delivery system said to bring a uniform ink amount across the web. High-definition plates can be imaged within three minutes, reportedly assuring fast set-up times and outstanding quality on all commonly used label substrates. Aniflo's stability allows expanded gamut printing, reaching more than 90% of the Pantone color book without ink changes or consequential washing.
Viva 340 Evolution, a dedicated Aniflo press, will feature advances in Viva Evolution's software, architecture, and controls. A new human-machine interface enables transfer of prepress data to print a label with minimized manual input in minutes. New software features allow automated register synchronization and connectivity with elements in the customer's IT environment such as prepress solutions and ERP systems.
The Viva 340 offers integrated in-line finishing processes to enable added-value label production in a single pass. The press to be demonstrated at Labelexpo will feature five Aniflo positions in combination with rotary screen, enhanced flat-bed foil embossing combo unit and flexo varnish. New features include a shorter matrix path to the rewinder, minimizing change of web breaks, and automated web guidance and camera inspection.
The Viva 340 combination press will also be shown with the new air-cooled IST-Metz MBS LEDcure system said to offer longer lamp lifetime, reduced energy consumption, elimination of ozone emissions, increased start-up speeds, and compatibility with film as well as paper substrates.
This email address is being protected from spambots. You need JavaScript enabled to view it.