Published: May 23, 2017
DÜSSELDORF, GERMANY | The Dow Chemical Company reports that its Packaging & Specialty Plastics business recently signed a global Pack Studios collaboration program with HP Indigo Division to accelerate innovation in flexible packaging.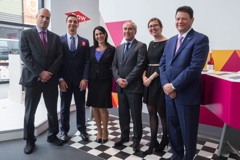 The agreement, which was announced at interpack 2017, reportedly will accelerate flexible packaging development through shared resources to understand final package appearance and shelf appeal. It will grant HP Indigo access to the Dow Pack Studios network and technical facilities, while effectively expanding Dow Pack Studios capabilities through access to the digital printing capabilities of HP Indigo.
"This is yet another example of how Dow's Pack Studios approach brings experts together to collaborate on innovative packaging solutions," says Haley Lowry, global marketing director for Pack Studios at Dow's Packaging & Specialty Plastics business. "Digital printing is continuing to grow and the links with customizing packaging further is important. We are honored to have HP join our collaboration program as continued engagement is core to Pack Studios. And as a result of this collaboration, we are able to deliver solutions bringing higher performance, versatility, and sustainability to customers and the industry."
"In HP Indigo's continuous strive for innovation in digital printing, we clearly recognize the benefits that Dow Pack Studios bring to the value chain in the flexible packaging market," says Nurit Raccah, Labels and Packaging Media and Materials Business Manager, Indigo division, HP. "Combining Dow's leading position as a packaging materials provider and HP's pioneering in digital printing, this strategic collaboration through Dow Pack Studios is a major step toward new developments and will extend the value of digital printing in the flexible packaging market."
Dow says the global Pack Studios collaboration program with HP Indigo is another step in creating strong Pack Studios relationships, following on last year's successful global innovation and business development agreement with Nordmeccanica, Pack Studios provides customers an opportunity to leverage Dow's expertise, broad product portfolio, and product and application testing capabilities to accelerate the collaborative development of innovative solutions.
Pack Studios also connect customers with Dow's global network of capabilities, which include resins, lamination, converting, packaging, and prototyping. There are seven Pack Studios locations positioned around the world.
This email address is being protected from spambots. You need JavaScript enabled to view it.