Published: May 15, 2017
LONG BEACH, CA | Epson America announces that Sharp Labels & Printing, Sanborn, NY, a family-owned, full-service label and commercial printing company, has purchased and installed the Epson SurePress L-4033AW inkjet digital label press.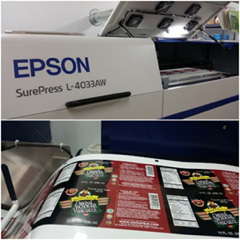 After initial investing in a small digital press that could handle black-and-white labels, Sharp began looking for a digital label press that could keep pace with growing label requests and offer customers a higher quality product. Sharp reports it chose the SurePress L-4033AW in large part for media compatibility and its inks, which provide a wide range of colors for professional and consistent results.
"The Epson SurePress has truly helped us expand our offerings and meet customer demands as our business continues to grow," says Justin Sharpsteen, engineer, Sharp Labels & Printing. "There's no other digital press that compares when it comes to the quality the SurePress produces when printing high quality labels, especially with its wide color gamut and ability to print on a wide range of media."
The press is said to deliver exceptional print quality and accurate color reproduction, as well as innovative features, making it a cost-effective and reliable solution that allows printers to expand their service offerings and improve profitability.
"Our label production has grown significantly since we purchased the SurePress," says Sharpsteen. "With the growing number of requests for labels from our customers, we chose the SurePress because it allowed us to print as little as 250 to 10,000 labels at a time. The SurePress is easy to use and requires very little supervision. We find it impressive how the SurePress's ability to spot match color is dead on every time, which is noticeable to our existing customers…."
Driving the SurePress L-4033AW is the included Wasatch RIP and Print Management Software. Epson says the Wasatch SoftRIP is a sophisticated RIP solution designed to save time and money by including superior color management options, efficient layout features, powerful workflow tools, variable data printing, and contour cutting, all while producing excellent quality color.
"The SurePress is designed to make the adoption of digital short-run label printing easier and more profitable for label converters," says Victor Gomez, group product manager Americas, Labels, Epson America. "Epson's goal is to help businesses grow and deliver high quality products, so we are thrilled when we see customers like Sharp Labels & Printing leveraging our advanced SurePress label presses for success."
This email address is being protected from spambots. You need JavaScript enabled to view it.
This email address is being protected from spambots. You need JavaScript enabled to view it.