Published: May 05, 2017
MALDEGEM, BELGIUM | Dutch sugar manufacturer Suiker Unie wanted an alternative to its cardboard cylindrical packs. The company chose a cylindrical IML pack with an Orange Peel IML look. Unique in its category, the pack stands out on Belgian and Dutch retail shelves. And the pack offers a great consumer benefit - it makes it easy to pour a measured dose of sugar.
Packaging manufacturer Hordijk produces the IML cylindrical packs for powdered sugar and cinnamon sugar in two sizes: 125 g and 250 g. Verstraete In Mould Labels supplies the labels. The distinctive dispenser cap makes application easy for the consumer. Small or large quantity? Everything is possible! The smaller holes in the pack's cap are perfect for sprinkling powdered sugar on pancakes and fritters. The larger aperture dispenses greater quantities of sugar, which is ideal for the pastry bakers among us. In addition, the tamper-evident tab ensures a first user guarantee.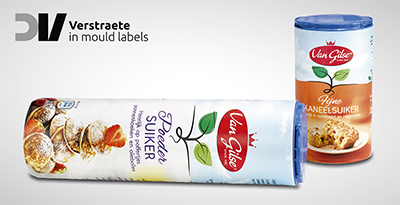 Entire pack in mono-material
Hordijk explains: "The tube, IML label, and dispenser cap are all made from the same material: polypropylene. This mono-material usage makes the entire pack 100% recyclable, giving it a chance to a second life after usage. The IML label also saves a step in the manufacturing process, since the labels and sleeves do not have to be applied to the packaging anymore at the end of the production flow.
Hordijk continues: "The main technical challenges we had to surmount? Achieving a constant wall thickness in the entire cylinder and positioning the elongated label perfectly in the mold. Only then the label fits properly in the cylindrical pack and the artwork perfectly forms a continuous IML label. We relied on Verstraete IML for the IML labels knowing that they are a reliable IML partner that guarantees quality in terms of fit, printing color, workability and reliable supply."
Jan Van Iseghem, Verstraete IML sales manager for Northern Europe, explains: "An IML label provides outstanding printing quality. Just look at the blue sky on the label - it's such a radiant, clear blue! The brand owner also chose an Orange Peel finish, so the pack is pleasant to touch and hold. The feel of Orange Peel IML also reflects Van Gilse's brand values and the benefits of the product: authenticity, quality and enjoyment."