Published: May 03, 2017
ST. LOUIS, MO | Mark Andy says the recent Open House in Warsaw, Poland, was a resounding success. According to Tom Cavalco, the company confirmed orders for seven flexo and digital presses as well as two Rotoflex inspection rewinders by the close of the three-day event that attracted more than 300 converters from Europe, North Africa, South Asia, and the Middle East. The Open House was organized as an opportunity for narrow web converters to have a preview of the technology due to be shown at Labelexpo Europe in Brussels, Belgium, later in the year.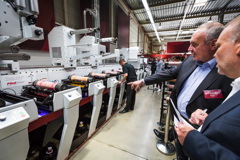 Making its European debut was the second-generation Performance Series P7 flexo press. This fully servo-driven machine is company's top-of-the-range offering, recently updated with converter-focused enhancements to support ease of operation, improved productivity, and increased profit potential. For the Open House, this 430-mm press was specified to offer almost limitless in-line decoration and converting capabilities, with nine UV flexo units, the full 'film package' that includes eight ProLED lamps on chilled impression drums, with a double mercury UV unit in the lower position on the final station.
Company's digital offering was shown in two of the three available hybrid platforms: Digital Series, the production-level UV inkjet inline hybrid that is fully customizable, and Digital One, the dry toner entry level prime label press. The Digital Series is a 330-mm line built on a Performance Series platform, providing a commercial approach for any size job. It is reported to be highly configurable according to individual requirements, and at the Open House was shown with one flexo station before and two flexo stations after the inkjet module.
Capable of and demonstrated at 76 mpm, the Digital Series was fitted with a corona treater, web cleaner, cold foil stamping/laminating, and the QCDC Quick Change Die Cut unit. Three substrates were run with multi jobs and three die changes.
The Digital One press features a 330-mm web width and a hybrid platform that includes a CMYK dry toner unit preceded by a web cleaner, followed by a flexo station for cold foil or lamination, and a die-cutting unit.
Representing technology in web inspection and finishing was the Rotoflex VSI high-speed inspection slitter/rewinder, capable of 305 mpm on a 330-mm (or 440-mm) web width. It features the latest web transport with Rotoflex eDrive 2.0 and URC 2.0 control system. The VSI has a 711-mm unwind capacity and either 406- or 457-mm rewind depending on whether a single or double spindle is fitted.
Says Cavalco, "There is a huge demand for flexo and digital hybrid knowledge and technology in Poland and many of the emerging markets in eastern Europe and beyond, [and] Mark Andy has a duty to respond to that need. The results speak for themselves with the large number of visitors who attended, and the excellent sales contracts that were concluded during the week."
This email address is being protected from spambots. You need JavaScript enabled to view it.