Published: April 25, 2017
MILLS RIVER, NC | UPM Raflatac now offers Raflex machine direction oriented (MDO) films, said to balance the best performance properties of PP and PE for maximum functionality and shelf appeal.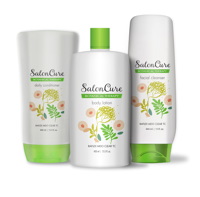 Company says the conformable films make creasing and darting that distort graphics a thing of the past because they offer excellent conformability and squeezability on contoured containers, while preserving the stiffness of a standard-gauge clear PP for consistent application and converting.
Raflex MDO films are said to be ideal for thicker-width bottles that present twice the amount of curve (when compared to flat panel wall-to-wall squeezable containers) and those that require a full squeeze at the bottom of the bottle. Available in both clear and white with RP74 adhesive and both paper and film liners, Raflex MDO films are suitable for a variety of end-uses, including food, beverage, and personal care
"Our new Raflex MDO films offer exceptional on-press performance with enhanced conformability," says Bruce Ruppert, manager, Product Development, Americas, UPM Raflatac. "Squeeze after squeeze, these clear and white materials are a perfect fit for keeping branding intact throughout the product life cycle."
This email address is being protected from spambots. You need JavaScript enabled to view it.