Published: March 27, 2017
BOXMEER, NETHERLANDS | SPGPrints will showcase its high-performance, electroformed-nickel rotary and flatbed screen printing solutions for what is says is the cost-effective, precise production of electronic devices at the LOPEC 2017 fair, in Munich, Germany, March 29–30, 2017). Applications include photo and organic voltaics, electronic and bio-sensors, touch panels, LEDs, and multiple-layer flexible circuit boards.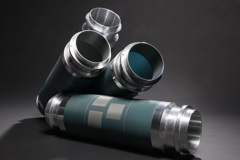 Company says nonwoven nickel meshes, with hexagonal holes, offer high strength to endure handling and provide stable, uninterrupted printing by roll or sheet. They also offer aspect ratios of 0.3 and higher for obtaining fine patterns. These qualities reportedly enable printers to exploit the ability of the screen process to lay down thick ink or coating layers in one pass and to achieve functionalities such as connectivity and product protection.
PlanoMesh, for flat-bed printing, is made from 100% nickel sheets and is available in 1,200-mm-wide rolls. Shape stability gives a significant advantage in quality and lifetime, company adds, compared with woven meshes, and it achieves exceptional registration and resolutions of below 50 µm.
For roll-fed printing situations such as seamless/endless production, or where higher speeds are required, company's nickel RotaMesh rotary screens are said to offer productivity and long-term low cost of ownership. The screens can be both re-used and re-engraved for different jobs, several times. Additionally, for RotaMesh users, the company offers a comprehensive workflow, comprising printing units, re-engraveble nickel mesh screens, lacquers, and screen-imaging equipment.
According to SPGPrints, PlanoMesh and RotaMesh screens are increasingly chosen for printing circuits with carbon and silver-based inks, facilitating the production of cheaper and lighter electronic devices; as well as low-power organic solar panels on PET film.
Ben Robesin, application specialist, SPGPrints, says, "SPGPrints' unique technology, based on electroformed nickel screens, has been adopted and recognized by the printed electronics industry for many years now. Our ongoing collaboration with leading substrate and functional ink suppliers has resulted in well-balanced meshes for rotary screen printing as well as for flat-bed printing. The nickel material, with its superb performance in terms of dimension stability, flow dynamics, easy handling, and long life, brings significant advantages over woven meshes."
This email address is being protected from spambots. You need JavaScript enabled to view it.