Published: February 07, 2017
HOD-HASHARON, ISRAEL | AVT, a global supplier of print inspection, print process control, and quality assurance, announces a licensing agreement with color technology specialist X-Rite. The new partnership certifies that AVT's in-line SpectraLab II Color Measurement System is compliant with X-Rite's XRGA Standard. Going forward, AVT will be offering an XRGA certification for its SpectraLab solutions.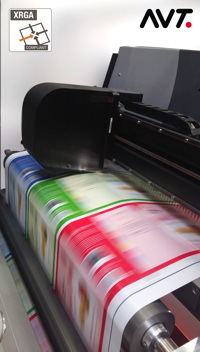 Developed as an ISO-compliant metrology standard for the graphic arts industry, the XRGA standard utilizes both advances in color science and new international standards to reduce color measurement discrepancies and to optimize color measurement across multivendor color networks.
Company says the problem of color inconsistency is often a direct result of using different devices to monitor color. SpectraLab II is AVT's latest generation of in-line spectral measurement for nearly any application—including various label substrates, paper, cartons, and transparent flexible packaging. The solution's standardized design is said to be widely compatible with typical industry devices, including X-Rite's handheld monitoring instruments.
SpectraLab II offers in-line continuous color measurements at high speeds and shows color results and trends throughout runs. Providing advanced color workflow management and exemplary inline-to-offline measurement correlation, SpectraLab II reportedly features enhanced color reporting capabilities including real-time alerts to third-party reporting systems when colors shift out of tolerance. Company says the system allows for seamless connectivity to existing workflows and color databases and eliminates the need for press stops and manual measurements.
"X-Rite's highly respected XRGA standard provides an invaluable third-party endorsement to printers considering AVT's SpectraLab II advanced color measurement system," says Alan Then, general manager, Color Solutions, AVT. "Solutions that meet X-Rite's rigorous requirements are rewarded with the prestige its XRGA Standard instantly communicates to customers."
"As a market's leading and most comprehensive color management solutions provider, X-Rite is pleased to add AVT's outstanding SpectraLab II solution to our recommended technology offerings," says Chris Winczewski, VP product marketing for X-Rite.
This email address is being protected from spambots. You need JavaScript enabled to view it.