Published: January 20, 2017
WESTERLY, RI | Maxson Automatic Machinery Company offers the Citation, which it says is an economical self-loading shaftless roll stand that provides a safe method to reduce downtime due to roll changes.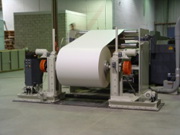 Motors on each slider base drive a power screw, moving the post in or out. The roll is raised and lowered by a roll lift screw jack on each post. The operator positions the roll between the two posts, chucks the roll, and raises it into place. No overhead hoists or fork trucks are required to load the roll.
Durable design and rugged construction permit continuous service at 1,000 fpm (305 fpm). Generously designed power screws, oversized stub shafts, rugged gear motors, and dual pneumatic disc brakes accommodate up to 6,000 lbs (2,725 kg) and 72-in.-dia (1,830-mm) rolls. Tapered chucks with diameters from 3 in. (76 mm) to 16 in. (407 mm) handle various core sizes.
The roll stand can be equipped with automatic tension control that reduces the brake pressure as the roll diameter decreases, low roll diameter detection to stop the sheeter before the roll expires, and edge guidance to compensate for telescoped rolls.
CONTACT COMPANY