Published: November 22, 2016
MINNEAPOLIS, MN | Eaglewood Technologies reports the introduction of Laserlox said to be an intelligent, environmentally safe and effective way to maintain clean anilox rolls.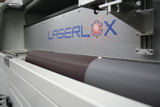 The Laserlox Systems have been designed for flexible packaging and narrow web converters to compliment the Sanilox Systems, which are suited for corrugated and specialty converters.
Company says the most advanced laser technology combined with a cutting edge software package allows the user to easily clean ink and coating chemistries of all types. The Laserlox Flexi is described as an adaptable cleaning system that can clean multiple narrow web rolls or a combination of rolls and sleeves to 88 in. in length with one machine.
This email address is being protected from spambots. You need JavaScript enabled to view it.