Published: November 17, 2016
LOS ANGELES, CA | UniNet demonstrated the iColor 700 digital LED toner-based printer in the UPM Raflatac booth at the recent PACK EXPO. The companies highlighted short-run digital label printing using a variety of label stocks from UPM Raflatac's Print-On-Demand line.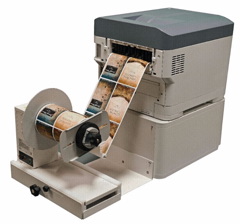 This range is said to provide a selection of paper and film combinations that offer high quality imaging and excellent durability for labeling and packaging. Applications include food and beverage, health and beauty, product and shipping, as well as the recently approved polyester (PET) that is now BS5609, section 3 GHS certified for chemical and drum labeling.
UniNet partnered with UPM Raflatac, global supplier of pressure-sensitive label materials, to create worldwide solutions for converters and customers that are said to ensure professional results using the iColor digital label printers. Company says the iColor 700 low fuser temperature technology supports printing production on a broader range of both standard and specialty substrates including BOPP, PET, vinyl, and more.
"The printing capabilities of the iColor series continue to grow based on our collaboration with UPM Raflatac," says Joe Dovi, COO at UniNet. "By partnering with them we are able to offer a diverse selection of substrates for printers looking to expand their product offering, or brand owners looking to create the perfect image for their packaging."
This email address is being protected from spambots. You need JavaScript enabled to view it.