Published: November 14, 2016
WEST CALDWELL, NJ | CTC International reports the launch of the Model S-SSL-0630-PBR compact automatic splicer with controls for splicing printed web in register. This new machine is said to allow nonstop production via high-speed automatic roll changes.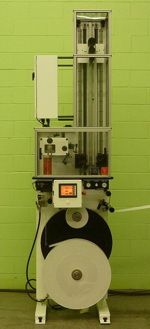 Company says space-saving design allows automatic splicing to be added in the smallest spaces, and the ergonomically designed turreting unwind roll system allows for the most convenient roll loading height close to the floor for minimal roll lifting.
The splice mechanism, coupled with the turreting unwind, allows for the splice tape to always be applied to the same side of the web, reducing the possibility of web tear or snag due to folding in the process line. Machine is equipped with company's auto register system for splicing preprinted materials in register. This system has the ability to splice in perfect registration regardless of speed changes during the process, company says.
Splicer is said to be suited for a wide range of materials used in the packaging, plastics, and converting industries and can be application engineered for a variety of diameters, web widths, web tensions, and line speeds.
Reported features include the following:
Ultra-compact design
Touch Screen operator interface
Tape always on the same side of the web
Industry-standard PLC control
Cantilevered roll loading
Accurate registered splicing with auto compensation for speed changes.
This email address is being protected from spambots. You need JavaScript enabled to view it.