Published: November 03, 2016
WILMINGTON, MA | Stafford Manufacturing Corporation provides custom-manufactured shaft collars that often include modifications which customers previously made on their own, or completely new designs.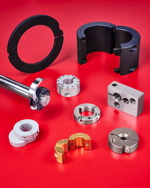 The custom collars can include minor modifications to their standard parts such as slots, flats, through-holes, and threaded holes to complete custom designs with cams, levers, mounting holes, hinges, and more. Typically combining multiple functions to eliminate extra parts and improve mechanical efficiency and structural integrity, they can enhance drive system performance and add mounting or system integration capabilities, company says.
Supplied in prototype through production quantities, the collars can be machined from alloy steels, stainless alloys, titanium, aluminum with anodizing in bright colors, brass, bronze, Teflon, Delrin, nylon, and other materials. Ranging from 1/8–10 in. I.D. with round, square, and other bore styles, dimensional tolerances of < 0.001 in. and < 0.001 in. T.I.R. concentricity can be achieved, depending upon configuration.
This email address is being protected from spambots. You need JavaScript enabled to view it.