Published: October 24, 2016
BARRINGTON, IL | Grafotronic offers a flexible unwinder that can be installed on-line with punching systems, offset printing machines, inkjet equipment, sheeters, zig-zag folders, or rewinders.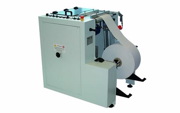 The unwinder is said to be tension-free and features a roll shaft with pneumatic expansion, roll end sensor, connection plate with pneumatic blocks, and loup controlled by sensors. Company says it is able to work on line with all machines and meets CE standards.
Maximum roll diameter is 900 mm (40 in.), maximum working width is 330 mm (optional 520 and 700 mm), standard roll shaft diameter is 76 mm (3 in.), material weight range is 50/300 g/m, and maximum speed is 100 mpm, (optional 150 mpm).
Offered optional is a web tension version with electronic web guide control.
This email address is being protected from spambots. You need JavaScript enabled to view it.