Published: October 21, 2016
PALO ALTO, CA | HP Indigo offers the 29-in. 12000 digital press, said to provide superior print quality, high productivity, and wide versatility. Built on the HP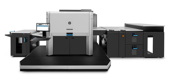 Indigo 10000 digital press, the press is said to be an easy fit for offset printers.
Enabled by HP Indigo's liquid ElectroInk technology and digital offset process, the press reportedly delivers smooth and sharp prints, matching or even exceeding offset quality. HP Indigo ElectroInk has the widest digital color gamut, reaching up to 97% of PANTONE colors and using up to seven ink stations on press. A 5th ink station is standard. Color matching tools ensure perfect color accuracy and consistency.
The press prints sheets in color at up to 4,600/hr.