Published: September 29, 2016
ROCHESTER, NY | Durst says the Tau 330E UV inkjet label printer combines industry-standard productivity with a cost-effectiveness that gives small and medium-sized businesses the ability to move into the digital label production sector.
The basic technology, including the print quality and speed, comes from the company's flagship Tau 330 printing system.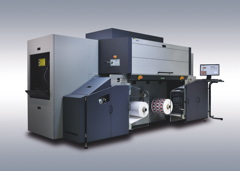 Customers have a choice of printing width between 200 and 330 mm, as well as a choice of four or five colors (CMYK + W). Press, which offers two printing modes (standard and HD), is designed for 24/7 production.
The Tau 330E reaches a productivity to 48 running mpm as standard. In addition to standard printing mode at 720 x 360 dpi, press also offers HD printing at 720 x 1,260 dpi, reportedly enabling razor-sharp texts, fine graphic details, cleaner color transitions, and soft skin tones to be achieved.
The low-migration UV inkjet inks offer new market opportunities and areas of application on the pharmaceutical and food market, according to company, and the low-migration UV ink meets all specifications for straightforward use on primary packaging.
Three ink systems are available for the Tau 330E:
New, highly pigmented inks are a cost-effective universal solution said to
reduce ink costs by up to 25% due to a lower demand for ink per
running meter
Industry inks for printing highly resistant labels and identifiers
Low-migration inks for printing primary packaging in the pharmaceutical 
and grocery sectors.
This email address is being protected from spambots. You need JavaScript enabled to view it.