Published: September 21, 2016
VIENNA, AUSTRIA | Constantia Flexibles announces that its' Smart Top aluminum foil lids are now providing additional promotional opportunities for cans of Mediterranean cult brand Orangina.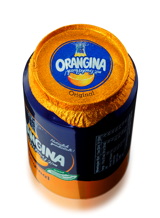 Company says this premium packaging element also provides hygienic protection against dirt and germs while adding a stylish branding element that stands out on-shelf.
The fully recyclable debossed aluminum foil reportedly adapts perfectly to the can's shape and can be accurately applied at up to 60,000 cans/hr. The additional branding space can be customized with specialty embossing patterns, temperature changing inks, and printing on the reverse side for special promotions.
According to Constantia, Orangina is thrilled with the new packaging element as it gives them promotional flexibility, premium shelf presence, and protection from dust and germs.
This email address is being protected from spambots. You need JavaScript enabled to view it.