Published: September 09, 2016
RIVER FALLS, WI | Air Motion Systems (AMS) will display the Flexo XP Series LED UV curing system at Labelexpo Americas 2016, September 13–15, at the Donald E. Stephens Convention Center, Rosemont, IL. The unit will be in action at the Bobst exhibit in Booth 5721, installed on an M6 ten-color, 530-mm flexo press.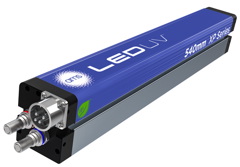 Company says LED UV curing does not generate heat to the substrate and does not produce ozone, an environmentally sound combination. Presses equipped with Flexo XP Series curing modules reportedly can print at speeds of 650 fpm, while drawing less electricity than a standard UV lamp-based system.
Additional reported benefits: The systems save time since the need to frequently replace UV bulbs is eliminated, tight turnarounds can be met thanks to increased press speeds, blowers are no longer needed (which also makes the press quieter), instant on/off means no warm-up or cool-down time, and rolls never need to be cooled.
Also, the system is called ideal for printing on a broad range of substrates, and thinner substrates and heat-sensitive materials can be used without issue. From self-adhesive labels and shrink sleeves through unsupported films and lamination applications, the secure cure enabled by the system is said to provide the highest quality printed results, without fear of tackiness due to degrading bulbs. With power densities to 25W, color quality and ink density can be improved as well.
The Flexo XP Series system is available for both new machines and retrofits, and it can be installed on all makes and models of flexographic presses, company says.
This email address is being protected from spambots. You need JavaScript enabled to view it.