Published: August 11, 2016
WILMINGTON, MA | Stafford Manufacturing Corporation announces a new group of shaft collars, couplings, thrust assemblies, and repair kits especially developed for maintenance applications.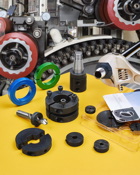 The Maintenance Group features eight families of products born from special repair and retrofit requirements to add capabilities such as wrenching flats to collars for applying torque, conversion couplings and adapters for joining dissimilar shafts, and SPARC, the company's Prototype and Repair Collar System that lets users create their own working models of special-purposed shaft collars and components within a few hours.
Developed to reduce downtime and costs, the Maintenance Group of shaft collars also includes weldable and paintable shaft collars, along with machineable collars and couplings that are available in kits. Conversion couplings allow for the joining of inch-metric and different size shafts and thrust collar assemblies, including micro-adjustable end stops and axial thrust designs for releasing frozen shaft components.
This email address is being protected from spambots. You need JavaScript enabled to view it.