Published: July 29, 2016
BJERT, DENMARK | TRESU Group the global flexo technology provider, has expanded its range of carbon fiber chamber doctor blades to include 6-metre chambers principally for corrugated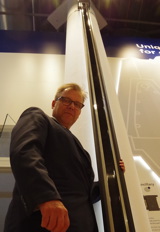 applications. The company's lightweight carbon fiber chambers, now available in wider widths from 1,600–6,000 mm, are said to offer improved chemical resistance, optimized flow, and safe, easy handling.
Company says the carbon fiber composition gives high-strength qualities, enabling a relatively low weight of between 2.4 and 4.1 kg/ linear m (approximately 1.6 lb–2.74 lb/linear ft), thus easing chamber exchange. The chamber's top-coated, ink-repellent internal surface provides extra protection against ink and detergents with high and low pH-values and ensures efficient cleaning after job completion. Additionally, a clamping system allows stainless steel blade changeovers within 2 min. Because of its simplicity and high level of automation, the carbon fiber chamber can be cleaned and prepared without being removed from the press.
When used with an ink supply and cleaning system, such as company's F10 iCon, the chamber doctor blade offers a fully automated and enclosed means of circulation, reportedly maintaining precise flow, pressure and viscosity, as well as eliminating leakage and evaporation during the print run, and reducing set-up times.
The enclosed environment also stops air contaminating the chamber and results in foam-free transfer of ink/coating directly to the anilox cells, also at fast speeds. This in turn is said to ensure a clean, blister-free printed image with fast drying characteristics, better reflection and higher gloss values, whether on paper or film. The enclosed chamber also prevents solvents from escaping and protects the ink from degradation due to exposure to the atmosphere.
This email address is being protected from spambots. You need JavaScript enabled to view it.