Published: June 29, 2016
PALO ALTO, CA | HP demonstrated a fully integrated, single-pass digital combination print process for the labels market at the recent drupa 2016.
The technology, shown as part of an HP Indigo WS6800 digital press. reportedly allows customers to print spot and tactile varnishes, cold foil, embossing, and other effects as well as variable embellishments powered by company's SmartStream Mosaic in one end-to-end digital combination printing process. The demonstration featured seamless integration to the press's digital front end, providing a single point of control for all functions, leveraging a single print file for all images and embellishments in a job and increasing workflow automation.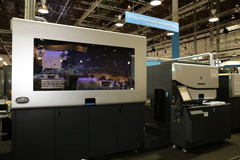 Company says the solution will enable label converters to help brands enhance their products' shelf appeal, increase their agility and reduce time to market, while removing existing production bottlenecks.
"Embellishments are an effective way for brands to increase their products' shelf appeal, but the current analog production methods are complex, inefficient, and expensive," says Alon Bar-Shany, general manager, Indigo division, HP. "[This] digital combination printing digitalizes one of the remaining conventional production bottlenecks and will allow our customers to produce highly decorated labels in a simple, efficient, and fully automated process, without plates, tooling, or mechanical prepress, bringing the digital revolution to new areas of the label market."
The solution will target all levels of production capacity to 40 mpm with the WS6800 digital press and to 80 mpm with the HP Indigo 8000 digital press.