Published: June 28, 2016
FREMONT, CA | EFI is extending its technology into high-volume digital printing production markets with the introduction of the new Fiery XB digital front end (DFE) platform for ultra-high-speed inkjet presses.
Company says the Fiery XB platform, based on a high-performance, blade-based hardware architecture, can bring outstanding performance, color, and usability to ultra high-speed inkjet presses in the corrugated and packaging markets, as well as other areas.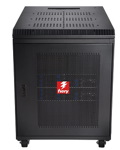 "We have taken the leading Fiery DFE and extended its capabilities to power some of the most exciting new press technologies coming to market," says Toby Weiss, senior VP and general manager, EFI Fiery. "These new DFEs offer the best blend of outstanding performance, color, usability, and integration to extend what customers can achieve in packaging, transactional print, and other applications."
The new Fiery XB platform can drive presses to speeds of 100 mpm of 1.8-m-wide corrugated boards. The platform uses Fiery software for RIP performance and video throughput with maximum use of hardware resources, and the presses reportedly deliver short runs of offset quality printing.
Users can manage up to seven-color applications, plus specialty colors and applications such as white ink or MICR ink. Fiery Command WorkStation allows users to manage all Fiery Driven ultra-high-speed inkjet or cut-sheet toner print engines from a single, intuitive interface on any networked Mac or Windows client.
Integration to company's MIS products, such as Productivity Suites and Digital Storefront web-to-print software, is said to provide greater operational efficiency and management control. Fiery DFEs now connect with workflow products from Esko to serve the needs of packaging customers. Plus, customers can easily integrate Fiery DFEs with in-house systems using the free Fiery API.
This email address is being protected from spambots. You need JavaScript enabled to view it.