Published: June 27, 2016
WILMINGTON, MA | Stafford Manufacturing Corporation has introduced a full standard line of mounting components featuring various options for attaching something to a shaft, pipe, and tube.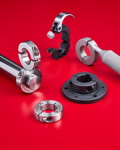 The mounting components feature a variety of shaft collar designs and mounting options including face, flange, flat, and stackable as well as different fastening alternatives for securely mounting items to a shaft, pipe, and tube. Sizes range from 6 mm to 10 in. I.D., depending upon the configuration, and they are available in steel, stainless steel, and aluminum, and special design modifications to customer specification.
Based upon one-piece, two-piece, and hinged shaft collars, the mounting components include the Accu-Clamp feature for applications that require extreme squareness and flatness. For adjustable clamping without tools, Staff-Lok collars are offered or a Grip & Go Quick Release Handle which replaces a clamp screw to allow rapid repositioning can be added.
This email address is being protected from spambots. You need JavaScript enabled to view it.