Published: June 06, 2016
CAMBRIDGE, UK | Xaar announces the 5601 family of high-resolution inkjet printheads, said to deliver a market-leading combination of total cost of ownership, print quality, and usability.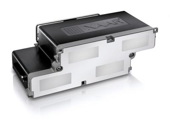 The 5601 3p0 is the first of this printhead family to be launched and will be available at the end of 2016. Company says its small drop and high performance make it ideal for laminates, carton printing, and many more applications.
Using company's new Thin Film piezo Silicon MEMS technology, the 5601 family features more than 5600 nozzles, capable of jetting up to 6 liters of fluid/hr. AcuDrp Technology reportedly allows complete control over greyscale drop ejection for perfect image quality. In addition, the 5601 printhead family incorporates TF Technology to maximize production uptime, print quality. and lifetime. With the Z profile, multiple printheads can fit closely together for an compact print zone, accurate drop placement between colors, and reduced costs associated with accurate media control and positioning. Printheads are optimized for aqueous inks and are said to provide excellent suitability for other low-viscosity fluids.
Company says the 5601 family is easy to use with Plug'n'Print features for quick and easy printhead installation and replacement, and internal memory allows the printer to automatically download and configure operational settings for ease of startup and best print quality.
This email address is being protected from spambots. You need JavaScript enabled to view it.