Published: May 31, 2016
ROCHESTER, NY | Sensor Films Incorporated (SFI) has announced a new, high-speed, roll-to-roll configuration of its Starlight digital manufacturing and printing system, reportedly enabling high-volume digital deposition of decorative graphic and functional inks on flexible substrates.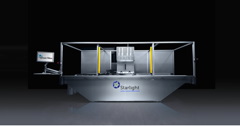 The new Spitfire Digital Manufacturing and Printing Platform is a roll-to-roll ink jet deposition system that uses industrial ink jet technology to pattern materials such as UV inks, resists, conductors, and dielectrics serving the digital display, specialty graphics and printable electronics industries.
"The Spitfire, like its sheet-fed sister product—the Starlight—offers numerous advantages," says SFI president Peter Hessney."Spitfire's digital manufacturing capability delivers rapid prototyping and improved workflows and allows for quick changeovers, reduced physical inventory, and economical short run jobs."
"The Spitfire's versatility enables the mass production of everything from high-value electronic components to full-color decorative graphics," Hessney adds.
Among Spitfire's other reported features:
High-resolution deposition of functional, decorative, and stretchable inks
Printable textures to 200 microns
Print speeds of 200 fpm
Hessney says the core of the Spitfire system is rugged piezo ink jet head architecture. "Utilizing stainless steel construction, Spitfire's print heads are compatible with virtually any type of ink chemistry including solvent, aqueous, and UV inks. This opens up new opportunities to formulate functional materials for digital deposition to create components and devices that were previously cost-prohibitive. Such new materials and processes will enable new products that are fast and efficient to produce and can be done so at low cost."
This email address is being protected from spambots. You need JavaScript enabled to view it.