Published: May 17, 2016
NORTH KINGSTOWN, RI | Toray Plastics (America) announces the introduction of Barrialox SBR2, a high-barrier, transparent, aluminum oxide-coated polyester film for retort pouch applications, which is made in Japan by Toray's sister company, Toray Advanced Film Co.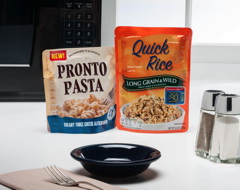 The new film is said to offer CPGs and converters a new generation of ALOX-coated film, which has excellent thermal stability and superior mechanical properties, including high strength and dimensional stability, enabling it to withstand the rigors of the converting process and the intense high heat and pressure of retort sterilization. Company says the film's strength and resilience contributes to the production of a finished, post-retort pouch that has excellent oxygen- and moisture-barrier durability. Typical value, flat sheet oxygen- and moisture-barrier transmission rates for Barrialox SBR2 are 0.01 cc/100 in. and 0.02 grams/100 in., respectively.
"A film that maintains its inherent barrier-durability during and after converting and retorting processes is essential for a successful retort application," says Chris Voght, senior director of sales and marketing, Torayfan Division.
Voght notes that brand owners continue to choose the retort pouch for traditional applications, such as seafood, chicken, prepared meals, rice, and even pet food, but they also want it for new product introductions and brand extensions, especially microwaveable applications and when the CPG wants customers to see the food. "Microwaveable vegetables and sauces, in particular, are trending now," he says.
The product reportedly resists pinholing, flex-cracking, scuffing, and abrasion, making it a preferred choice over more delicate aluminum oxide-coated films. In standard laminations, SBR2 is reverse-printed to create a colorful, attractive package that can be microwaved.
To manufacture a pouch with added convenience and exceptionally high heat-seal strengths, Barrialox SBR2 can be laminated with company's TreaTear DR72 film, a directional-tear CPP sealant film said to provide an easy, straight tear for opening the package. Barrialox SBR2 can also be used in the manufacture of non-retort clear packaging and in lidding lamination applications.
This email address is being protected from spambots. You need JavaScript enabled to view it.