Published: May 09, 2016
WESTERLY, RI | Maxson Automatic Machinery Company says the MD1/2 Sheeter with a 15–42-in. (380–1,067-mm) cut-off range and 32-in. (813-mm) trim width, is designed for the folding carton market that caters to this developing need of single serving and small pack quantity boxes.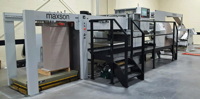 The following are among the sheeter's reported advantages:
Offers speeds exceeding more than 18,000 cuts/hr throughout most of the cut-off range.
Outfitted with "pile offset," sheeted pallets can be direct fed to the press.
A petite footprint, allowing the operator to effortlessly tend the sheeter.
Using intuitive icons, a color touch screen inputs orders and monitors production.
Electrical panels are machine mounted, simplifying installation and serviceability.
Remote electrical diagnostic capabilities ensure prompt off-site, after-sales response.
Company says the sheeter is on the cutting edge of quick setup, high output, and rapid turnaround sheeting technology for emerging trends.
This email address is being protected from spambots. You need JavaScript enabled to view it.