Published: April 12, 2016
KOLDING, DENMARK | Folding carton supplier the Alexir Partnership, Edenbridge, UK, reports it is offering cost-effective packaging solutions for the booming artisanal food market and providing a host of high-value services, after installing a digital sheet-fed printing, coating and finishing workflow. The workflow features a Xerox iGen 4 sheet-fed digital printer with a TRESUPinta coater integrated in-line and, near-line, a KAMA ProFold 74 folder/gluer and Kongsberg Plotter.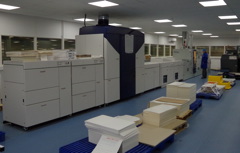 Alexir says the single-pass printing-coating line enables it to enter short-run printing markets and offer solutions including samples on-demand and personalized packaging due to its high speeds, minimal set-up times, automated features, and variable data capability. Capable to 110 sheets/min, the four-color (CMYK) iGen 4 press is said to meet exacting quality targets with minimal manual intervention. It includes an in-line spectrophotometer that automates color adjustments and calibration, automatic density control, and high-definition linearization said to eliminate the need for grey-scale calibration.
The post-print coating operation, provided by TRESU's Pinta in-line flexo coater, reportedly provides a layer of protection and enhances esthetic appeal. Company says a wide range of UV- or water-based finishes is possible, offering identical results to that of analog print. These include matte, gloss, full surface, spot, or fine-line effects.
Alexir says it identified the need to add a digital workflow to its existing litho operation when it faced demand from emerging small food businesses, including farms, that aim to sell into specialist niches or local markets. According to Claire Summersby, marketing manager at the Alexir Partnership, "Before we invested in digital capabilities, we would get enquires for runs of perhaps 500 cartons, but our litho-printing operation was simply too costly for their needs. With the Xerox and TRESU production line and its minimized set-up times, we can give these producers the fast supplies of appealing, high-impact packaging that result in retail listings and sales beyond the farmer's market."

Some of Alexir's clients are luxury brands. One example is Life Shot 200, a natural, highly concentrated coconut kefir health drink containing 200 billion bacteria, sold in glass bottles that are packed in a carton. Scott Beadell, digital production manager at the Alexir Partnership, says, "With the seamless integration of the coater in-line with the printer, we achieve the look and feel of the final printed result without extra logistics, material waste, and set-up times. You can see immediately what the final product will look like."
Most jobs on the Xerox-TRESU printing/coating line are below 5,000 units, though variable data run-lengths can be up to 100,000 units.
The TRESU Pinta reportedly is built to ensure productivity. Its patented sleeve technology that ensures stable, precise coverage at up to 5,000 sheets/hr. Fast sleeve-changes and an automatic, self-cleaning coating supply system limit job changeover times to just minutes even when switching between UV and water-based varnishes. After coating, the sheets are wheeled to the adjacent KAMA ProFold 74 gluer/folder or a Kongsberg plotter.
Alexir says the press and coater are suited for a wide array of paper stocks including coated, uncoated, textured, smooth, and specialty materials, as well as sheets of maximum cut size of 364 mm x 660 mm. Company specified the print/coating line to handle substrates to 610 micron thickness to meet specialist demands.
This email address is being protected from spambots. You need JavaScript enabled to view it.
This email address is being protected from spambots. You need JavaScript enabled to view it.