Published: March 31, 2016
WILMINGTON, MA | Stafford Manufacturing Corporation offers a full line of mechanical components for large cranes, conveyors, and equipment in the bulk processing, pulp and paper, and other heavy industries.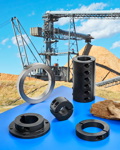 The oversized parts include large bore shaft collars, flange mount collars, and heavy-duty couplings that are designed for use in conveyors, mixers, and processing equipment. Said to featuring robust construction, they have larger bores and are wider than conventional parts, incorporate larger clamp screws, and can be modified with threaded bores and special bore contours, keyways, and tapped holes as required.
Machined from steel, stainless steel, special alloys, and aluminum, the oversized shaft collars are offered in 1- and 2-pc styles, sizes to 14-in. I.D. and varying O.Ds with widths to 10 in. Flange mounts can have bores to 6 in. and flanges to 14 in. O.D., and rigid couplings are available with bores to 6 in. Applications include all types of stationary and mobile heavy-duty conveyors and machinery.
This email address is being protected from spambots. You need JavaScript enabled to view it.