Published: August 04, 2015
BOXMEER, THE NETHERLANDS | SPGPrints will present live demonstrations of the DSI digital UV inkjet press and workflow at Labelexpo Europe 2015, (September 29–October 2, in Brussels, Belgium. The company will also highlight computer-to-plate and computer-to-screen imaging as well as rotary screen printing technology for labels and packaging.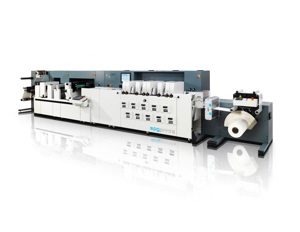 Available in widths from 5–21 in. (135–530 mm, the DSI press is called a high-performance alternative for print runs to 15,000 linear ft (5,000 LM) and variable data printing. CMYK, intermediate inline LED pinning stations, and chill drum are standard. In addition to the four process colors, the press can be specified or extended with up to six extra stations, including orange and violet, to make 90% of the color gamut, digital white with 93% optical density, and a digital primer. A full range of semi-rotary converting options can be included in-line. Company's proprietary UV inkjet inks are said to offer UV-, chemical, and scratch-resistance, and include low-migration options, fully compliant with safety standards for safe food/pharmaceutical packaging.
Bas Hoijtink, commercial manager graphics at SPGPrints, says, "Our digital offering, combining press specification, modularity, our own specially optimized UV-curable inks, and long-term support throughout the press lifetime, has proved its value in numerous retail packaging and industrial markets. We have helped label converters offer brand owner customers high-value services such as short runs and multi-versioning, variable data, batch traceability, prototypes on demand, as well as high impact graphics."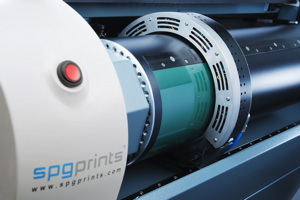 Company says the variLEX hybrid CTP (computer-to-plate) and CTS (computer-to-screen) processor offers the label and packaging industry a single, digital imaging solution for high-definition flexo, dry-offset, screen, and letterpress printing forms.
The processor can be equipped with a multi-beam diode laser system for ablating the black mask and/or a multi-beam diode laser system to directly expose UV-sensitive materials like screens. Integrated in-line exposure system facilitates ablation and exposure in one step, reportedly eliminating the need for off-line exposure and ensuring sharp printing results. Accommodates different mounting cylinders to handle all common plate and screen material available on the market.
Company's range of retrofittable RSI (Rotary Screen Integration) units is said to offer a productive, economical means creating a host of visually striking tactile and functional effects, of up to 300 micron thickness, in a single printing pass. Printing effects include the no-label look, metallic and opaque colors, glitters, tactile warning symbols, texture varnishes, scratch-off inks, holograms, conductive inks, and Braille.
Electroformed nickel RotaMesh screens reportedly offer stability at speeds in excess of 100 mpm, can be re-imaged several times, and have life-spans to 500,000 web m. Screen widths range from 12–36 in. (307.7–923 mm).
This email address is being protected from spambots. You need JavaScript enabled to view it.