Published: August 03, 2015
ARNHEM, THE NETHERLANDS | MPS reports the integration of the new GEW hybrid LED UV system, to be unveiled at Labelexpo Europe 2015, September 29–October 2, in Brussels, Belgium.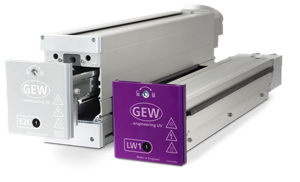 Company says it is the first narrow web press manufacturer to show the new GEW ArcLED hybrid LED UV system integrated with the next-generation EF Neo flexo printing press
MPS will feature live demonstrations of both LED and arc UV curing in combination with low-migration inks of the Flint Group for label and film applications. With this combination, the press reportedly will run at high speed using less energy, for the same running capacity.
MPS technical director Bert van den Brink says, "The main difference and biggest advantage of this showcased GEW ArcLED curing system, compared to other LED systems, is the ability to combine and interchange conventional arc lamps with LED curing at every print station. This hybrid system also provides our customers the flexibility to upgrade to LED at a later stage, so they can fully utilize the advantages of both technologies without the need to re-invest or modify their press."
With the new GEW ArcLED curing system, the same lamphead casing is used with interchangeable pull-out cassettes for arc and LED, including the same power supply and control. The associated RHINO-ArcLED power supply automatically recognises the type of cassette being used and adapts all parameters accordingly, including the correct power type and running parameters
Marcus Greenbrook, international sales manager at GEW, says, "Our new LED UV curing system is compatible with the widest range of substrates, and it increases machine uptime because of less maintenance. It also reduces energy consumption, as with LED instant on-off switching means no energy is consumed when the printing machine is idle between jobs.
This email address is being protected from spambots. You need JavaScript enabled to view it.