Published: July 28, 2015
SCHAUMBURG, IL | INX International Ink Company will feature a wide selection of inks at Graph Expo 2015, September 13–16, at Chicago's McCormick Place.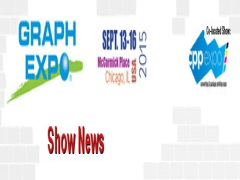 EcoTech LM Process Colors is said to be well suited for various packaging challenges where low-migration issues involving substrates, brand color specs, and converting demands leave no room for compromise. These high-performance process inks are formulated for the sheet-fed folding carton segment for indirect food contact containers where migration is a concern, part of an overall portfolio of low-migration inks and coatings company has developed to support various processes and applications in the packaging chain. EcoTech LM is free of mineral oil and cobalt. Company says inks are carefully formulated from vegetable oils and other bio-renewable resources, the system averages 65% by weigh from these user-friendly raw materials while meeting ISO 2846-1 standards and are GRACoL G7 certified.
Company will be featuring products said to offer performance features that help packages withstand the rigors of shipping, handling, and in-store displays, and protect from sun, moisture, dirt and other conditions. INXKote Aqueous Coatings and ProCure UV Coatings are two examples. INXKote is composed of water-soluble resins and styrenated acrylic polymers. It reportedly eliminates the need for conventional press varnish and solvent-based topcoats and is environmentally safe. ProCure offers high performance sustainability and can be used over nearly all sheet-fed and flexo inks.
In addition, company will feature TRIANGLE Alternative inks for digital printing, said to match nearly every OEM printer and printer head type.
This email address is being protected from spambots. You need JavaScript enabled to view it.