Published: July 23, 2015
SUSSEX, WI | QuadTech has installed a Color Control System with SpectralCam on the newly launched DG press (DGp) Thallo press. The press was purchased by Vuye Flexible Packaging, one of the world's first customers for the press, and the QuadTech system reportedly will provide closed-loop color control for reduced waste and fast makereadies.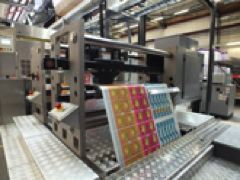 Company says the technology will automatically measure and control color on the Thallo press for both paper and film, and Vuye will be able to ensure accurate color information for the entire web and throughout the print run. It will also allow them to profit from a streamlined workflow for increased job turnaround and production efficiencies, QuadTech says.
The press at Vuye will be used to produce a range of packaging applications including labels, flow wraps, sachets, and shrink sleeves.
DGp says the QuadTech Color Control technology perfectly complements its new press, enabling it to deliver the best possible end product to customers. "We are always looking for technology that can make our customers' lives easier and their equipment more reliable and profitable," says Peter Kloppers, director, DGp. "We are pleased to be able to further enhance our presses through the use of QuadTech's technology. Combined with our new Thallo press, the Color Control solution will provide not only improved performance but will also reduce waste. Together, this means that we are able to address one of the key market concerns for customers."
QuadTech's smart SpectralCam technology is said to enable the system to quickly detect and analyze printed micro color bars at full press speeds on paper or film substrates. Coupled with the company's web stabilizing system, spectral color measurements of transparent and opaque web material are possible on-the-fly without risk of substrate corrugation.
"We are extremely confident in the capabilities of the Thallo press and in QuadTech's technology," says Kloppers. "It was a delight to share this with so many customers and industry professionals during our open house event. We are hopeful that this marks the beginning of a long and fruitful partnership with QuadTech, and we look forward to being able to bring the benefits of our combined expertise to many future customers."
This email address is being protected from spambots. You need JavaScript enabled to view it.