Published: July 13, 2015
ST. LOUIS, MO | Mark Andy, global supplier of label and package printing and converting machinery, has released a new model, the Performance Series P4 press.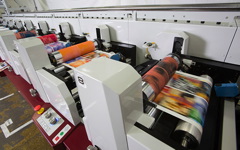 Company says the P4 is an economical model offering features and value that bring the innovation award-winning benefits of the Performance Series press platform to an even broader range of mid-sized label printers and converters.
Featuring the key Performance Series attributes including load-and-lock inking system and fast setup and changeover times that improve productivity by 60%, the new P4 is servo-driven, reportedly resulting in enhanced automation and precision. At the same time, it offers flexibility, allowing converters to configure it with the advanced P Series style plate tooling, or select a configuration which accepts existing or traditional style plate cylinder tooling, promoting use of current tooling inventories and minimizing investment costs. This latest P Series model also features a rail system, onto which moveable inter-station processes like cold foil, lamination, screen, turnbar, etc., can be mounted and moved from station to station.
Additional benefits of the new model are said to include improved print and registration management; higher productivity with faster setup, changeovers, and running speed; broader application and substrate capabilities; and a completely upgradeable, modular design.
The new P4 is now available and will be making its global debut at Labelexpo Europe 2015 September 29–October 1 in Brussels, Belgium. The press will be running several live demonstrations daily featuring ProLED UV LED curing, a fully integrated UV LED curing system said to reduce energy consumption while providing a cleaner, mercury-free printing environment.
This email address is being protected from spambots. You need JavaScript enabled to view it.