Published: June 25, 2015
CAMBRIDGE, UK | Domino Printing Sciences has launched its first digital cold foil solution based around the K600i digital print module. The solution uses the K600i to print a digital adhesive and create the image area prior to UV-curing and delamination. Unlike some other ink jet systems that print metallic ink to provide a foil-like effect, this digital cold foil solution is based on real conventional metallic foil which is said to provide a higher quality finish and enable the use of security and decorative holographic images within the foil.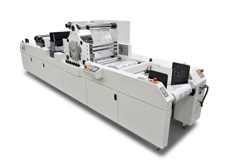 Depending on the substrate, the digital cold foil solution can operate at speeds to 75 mpm (246 fpm) and can be supplied as a stand-alone unit or be retrofitted to an existing foiling station. It is offered in up to seven different foiling widths ranging from 108 mm (4.25 in.) to 78 2mm (30.81 in.).
Philip Easton, director of Domino's Digital Printing Solutions Division, says, "We have been facing an increasing demand for a digital coil foil solution over the last seven years, so have we now combined the latest higher resolution K600i print technology with an advanced adhesive formulation and a web handling solution supplied by AB Graphic International."
Since the launch of the K600i monochrome ink jet printer in 2010, Domino has installed over 200 modules in a range of different production lines, including label presses for hybrid printing, and finishing and sheet-to-sheet lines. The new K600i cold foiling solution is based on the same technology, albeit printing a new digital adhesive.
Company says digital foiling represents a unique proposition for security applications designed to prevent parallel trade and anti-counterfeit activity. The combination of holographic foil with digitally created images provides additional product complexity and makes counterfeiting increasingly difficult to achieve.
The label and packaging market, which is seeing a trend for shorter run lengths and multiple SKUs, is another segment that can profit from digital foiling, reports Easton. "According to our customers, production run lengths are getting increasingly shorter. More importantly, brand owners are expecting lead times in some cases as short as 24 hours. The only way a label converter can efficiently respond to this demand is by digitally printing the labels. And, if the produce then needs foiling, our digital solution can be cost effective but also an efficient way to quickly process multiple small runs."
The K600i foiling solution is said to benefit from the inclusion of company's i-Tech intelligent Technology productivity-enhancing smart features designed to optimize printer performance and maintain the highest levels of productivity.
Domino's i-Tech ActiFlow ink circulating system ensures that the ink is always moving around the printhead, even when the printhead has stopped, while the i-Tech CleanCap automated printhead cleaning and capping technology reduces manual operator intervention. In addition, the i-Tech StitchLink micro-motor controller technology ensures that all heads are automatically and precisely calibrated to print as one, enabling seamless print across the full web width.
This email address is being protected from spambots. You need JavaScript enabled to view it.