Published: May 28, 2015
LAUSANNE, SWITZERLAND | Bobst recently held an Open House at the Cartograf production facilities in Aguascalientes, Mexico. The purpose of the event was to present the LEMANIC RIVIERA ILS rotogravure printing and in-line converting production line.
Bobst reports the line is the flagship of its range of equipment for the tobacco and general folding carton market segments of packaging production.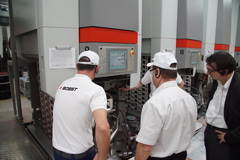 With the in-line process, the converting end of the production line is adapted to the specific requirements of the applications to be run on the line. Cartograf's reports its machine features a highly flexible delivery and stacking section that, along with the printing and converting units, clearly illustrates the company's strategy of equipping its pressroom with top performance equipment. The production line also features a sleeve-type embossing station.
"The LEMANIC RIVIERA ILS with FCC 82 HS addresses and meets the objectives that we have set in a number of areas that are of pivotal importance to us," says Juan Jose Páramo, CEO and chairman of the board of Cartograf. "Our investment drivers included not only our strategy of maintaining our competitiveness among other leading tobacco packaging manufacturers through high product quality and improved productivity, but also to ensure our ability to further widen the scope of packaging shapes with no limit to the creativity of the design, as well as environmental considerations."
Cartograf produces folding cartons and micro-flute corrugated packaging, in the tobacco, automotive, and consumer products markets, providing packaging solutions to more than 40 industrial sectors including food, liquors and beverages, personal hygiene, household, pharma, and medical.
The live demonstration of the printing and converting line was set up for beer carrier box production destined for the domestic market. Starting from rolls of board, the boxes were printed in multiple colors, converted through the flat-bed die-cutter, and delivered in finished stacks, all with automatic defect detection. The new LEMANIC RIVIERA ILS press line at Cartograf is composed of a double unwind station with automatic 0-speed splicer; an infeed unit with web cleaner; 12 printing units with a UV dryer in the last station; a rotary sleeve embossing unit with a Registron iQ 300.2 quality control system; the FCC 82 HS flat-bed cutter-creaser with its stripping sections; a separator; and SpeedFlow stacker delivery.
This email address is being protected from spambots. You need JavaScript enabled to view it.