Published: April 30, 2015
CHICAGO, IL | Registration and housing are open for GRAPH EXPO 15,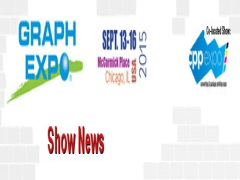 reports show organizer The Graphic Arts Show Co. (GASC). The event is coming to Chicago's McCormick Place September 13–16 and will co-locate with CPP EXPO and run concurrently with PROCESS EXPO (The Global Food Equipment and Technology Show). Registration provides single-pass entry into all three shows.
GASC says this year's edition will offer two new features:
• Applications Island, called "a show floor oasis of hot, unique print applications"
• Industrial Printing Pavilion: featuring Future Print—Printed Electronics, RFID, and 3D Printing
Register online at this link.
This email address is being protected from spambots. You need JavaScript enabled to view it.