Published: April 16, 2015
KOLDING, DENMARK | TRESU Group emphasized its capability as a total flexo solutions provider at Sino Corrugated 2015, April 14–17, with an offering that comprises ancillary products for ink and varnish flow control, integrated printing and coating units, and complete multi-station lines for converting packaging and lottery tickets. Company used the occasion to unveil the modular 'Concept' press, the lightweight, corrosion-resistant, carbon fibre chamber doctor blade, and the F10 iCon ink supply system.
The web-fed modular flexo 'Concept' printing and converting line is said to bring high speeds, short set-up times, lower handling, and single-pass capability to corrugated and folding carton manufacturing.
Customized to end-user performance requirements, the Concept offers a flexo platform in widths of 900, 1,100, and 1,400-mm widths. Reportedly, it provides the possibility for seamless integration of processes, such as variable data, gravure, screen, hot and cold foil and finishing, providing an end-to-end solution for high-value packaging. Running at speeds to 600 mpm, the Concept is said to offer effortless converting of substrates to 600 micron thickness, including paper, board, aluminum foil, and flexible packaging.
Allan Sander, VP of TRESU Solutions, the business area for TRESU's integrated printing innovations, says, "China's packaging converters are facing growing demand for shorter runs as well as high quality from brand owners and retailers. In-line flexo provides the most effective way of offering service flexibility while maintaining the competitive edge in terms of productivity, waste reduction, footprint ,and ergonomics."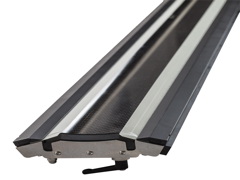 Another highlight of the TRESU stand was the new program of lightweight carbon fibre chamber doctor blade systems, said to offer improved chemical resistance, optimized flow and safe, and easy handling in virtually all flexo printing situations. The carbon fibre composition gives the chamber high-strength qualities, enabling a relatively low weight and thus easing chamber exchange. The inside of the chamber features a topcoated ink-repellent surface. This offers extra protection against ink and detergents with high and low pH-values and ensures efficient, thorough cleaning after job completion. Curved inner surfaces maximize volume and facilitate controlled discharge. The chamber's design also enables ink and coating circulation in relatively low volumes, company notes.
The enclosed environment, resulting from the seal and precise blade positioning, ensures pressure and flow rate are maintained at desired levels without manual intervention. This stops air contaminating the chamber and results in foam-free transfer of ink / coating directly to the anilox cells, also at fast speeds. The enclosed chamber also prevents solvents from escaping and protects the ink from degradation due to exposure to the atmosphere.
Henrik Kristensen, VP, TRESU Ancillary, says, "Thanks to its time-saving advantages, optimized fluid control and resilience, the TRESU carbon fibre chamber offers a long-term solution for high productivity, low ownership costs, and uniform quality."
This email address is being protected from spambots. You need JavaScript enabled to view it.