Published: April 14, 2015
WEST CHESTER, OH | Color-Logic metallic special effects are now available for flexible
packaging applications. Company reports brand managers and their graphic designers, who have long used its process to produce offset packaging and flexographic printed labels, are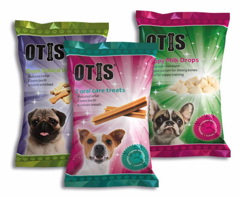 now bringing it to flexible films and shrink wrap materials. Designs for printing on metallized films, for example, require complex white ink masks that reportedly can be generated with just a click of the mouse with the software.
User-friendly Illustrator plug-in enables graphic designers to produce dramatic effects and achieve greater shelf impact to by allowing the substrate to become part of the design. Software also permits using metallic silver inks with CMYK inks to produce dramatic effects on conventional films and other substrates.
The company's FX-Viewer permits designers to visualize their metallic effects prior to prototyping. Doing so not only reduces cycle time between proofs but reduces cost
considerably.
Proofing Technologies, manufacturer of JetComp films used for producing flexible packaging mock-ups or proofs, has collaborated with Color-Logic to streamline prototyping and proofing of metallic flexible packaging. JetComp 2-mil Silver Metallized Polypropylene film is now certified for use with the Color-Logic Process Metallic Color System. With an Epson, Mimaki, or Roland solvent wide-format printer and JetComp materials, package designers are said to be able to see the effects of the Color-Logic system on their packages immediately.
This email address is being protected from spambots. You need JavaScript enabled to view it.