Published: March 12, 2015
SOMERSET, UK | TS Converting Equipment recently manufactured three Elite Cameron precision slitting machines for converters.
All of company's centre surface machines can be run in contact with a driven roll using its soft nip technology or in minimum gap mode for delicate narrow slits.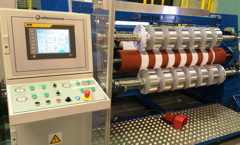 The machines support narrow slit strips all the way from the slitting station to the rewind, reportedly preventing any movement or material elongation.
Avon Adhesives, a UK converter of high-performance security tapes, purchased a 1,300-mm-wide duplex CS550. The machine, which slits to 6 mm (1/4 in.) wide, is designed for precise slitting registration to print using a dual-axis guiding system from Fife. Once set, the machine can run narrow coils to 600 mm (24 in.) diameter at 300 mpm (1,000 fpm). The rewind shafts remain in the machine and are cantilevered for the removal of the finished reels.
A 1,600-mm-wide (63 in.) CS600 was supplied to Eurobands', a tape converter in Belgium and is equipped with a dual-axis, automatic knife positioning system for the shear knives. Company says this machine is designed for customers that have short runs at different sizes, and it features an automatic system that can set 80 pairs of knives precisely, in less than 3 minutes, effectively eliminating knife set-up time.
Tape Case, Wheeling, IL, purchased the next model up, a CS800, which is said to be capable of slitting and rewinding 120 reels to 12.5 mm (1/2 in.) wide and 800 mm (32 in.) diameter! This is the second Elite Cameron machine this 3M distributer has purchased. Model has a variety of features including automatic tension control, tabbing, edge and line guiding, peel off roll, and cantilevered and lift out differential rewind shafts.
This email address is being protected from spambots. You need JavaScript enabled to view it.