Published: March 10, 2015
STUTTGART, GERMANY | Flint Group has moved all production of UV inks was moved from Baranzate, Italy, to a new center of excellence in Trelleborg,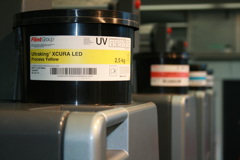 Sweden. The company reports this is due to the continuing growth in sales of sheet-fed UV inks.
Flint says the Swedish factory has been producing UV inks for flexible packaging and narrow web applications for many years, so the move to consolidate all UV ink production in one facility makes sense, both technologically and logistically. In addition, the move will free up capacity in the Italian plant to scale up production of two other key product lines: sheetfed low migration inks and varnishes.
Company says sheet-fed UV is a growing sector, and it has has accelerated its investment in R&D and the production and marketing of the product range over the past 24 months, including the launch of the Ultraking XCURA range of highly reactive and UV LED inks and coatings in the winter of 2013.
Jim Buchanan, originally hired as business development director, EMEA, for the UV range in June 2013, has now expanded his role to a global position.
Trevor Amps joined the company in June last year as EMEA UV technical application manager.
Richard Wilson, formerly EMEA UV product director, took over as Global UV OEMs and EMEA Dealers UV technical director. In his new role, Wilson coordinates OEM UV activities on a global basis and supports key UV technical projects at EMEA Dealers.
This email address is being protected from spambots. You need JavaScript enabled to view it.