Published: February 19, 2015
MADISON, WI | AccuWeb is offering a single WideArray edge detector and the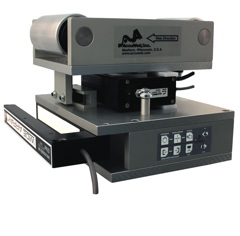 new EVO 150 web guide controller with DualEdge Technology. Both are for narrow web printers and converters needing centerline web guiding of web widths of 18 in. or less.
The web is automatically centered as web width varies or changes with each new run. The centerline position can also be easily adjusted electronically via the touch screen HMI, company's Remote Point Guide Adjust station, or any of EVO 150's communication protocols, including EtherNet/IP, ProfiNET.
The DualEdge Technology can be retrofit to existing lines or provided as a ready-to-run, out-of-the-box system with company's steering guide. Company says operators never have to waste time adjusting two edge detectors in order to achieve consistent, precision printing, coating, die-cutting, or embossing of different web runs.
This email address is being protected from spambots. You need JavaScript enabled to view it.