Published: February 10, 2015
GREEN BAY, WI | Registration is now open for Impact 2015, which will feature live equipment demonstrations by Paper Converting Machine Company (PCMC) and Colordyne Technologies. The event will take place February 17, 2015, at PCMC's headquarters in Green Bay.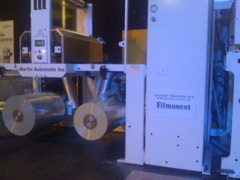 Among the participants and sponsors is Filmquest, supplier of Questar Polyester film for the demonstrations and production runs.
Printing technologies featured will include the PCMC ELS-MAX, a fully gearless flexographic printing press that incorporates features and capabilities typically associated with wide web, CI presses into an in-line platform said to offer flexibility as well as quick changeover and lower waste/shorter-run opportunities.
Also featured will be the Colordyne Technologies 3600 Series Sprint roll-to-roll digital inkjet printing system is capable of printing full-bleed on die-cut media ready for label applicator equipment. Prints at 275 fpm at 1600x1375 dpi resolution and features an Aquaflex/PCMC web handling system. Line includes a variety of finishing equipment for in- or off-line product finishing.
This email address is being protected from spambots. You need JavaScript enabled to view it.