Published: January 26, 2015
KOLDING, DENMARK | TRESU Group announces a flexo printing solution to be integrated inline with converting machines for disposable sanitary napkins. The unit, custom-developed following long-term collaboration with leading global sanitary napkin brand owners, applies patterns on the inside of the napkin.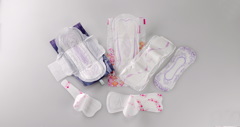 Allan Sander, sales director MBA, TRESU Solutions, says, "Demand for an efficient means of applying patterns has arisen following research that shows increased consumer loyalty to brands featuring printed designs. The customized printing integration system enables the personal hygiene industry to achieve this, while maintaining a cost-controlled, flexible, single-pass operation."
Built to accommodate different web-fed materials, the unit comprises up to four water-based colors, a hot air dryer and, at the embossing point, a register guidance camera. Company says the printing solution formation contained within a module offers both a compact footprint and an operator-friendly design.
Located at point of embossing, the register guidance system ensures synchronization of the printed pattern with the crease in the center of the napkin, at speeds to 400 mpm (approximately 2,000 pieces/min). Using the converting machine interface signals as point of reference, the control module influences the servo motors to ensure accuracy is maintained on-the-fly throughout the production run. Servo drives ensure automatically controlled, precise print speed and ink flow.
The integration unit includes company's F10 iCon ink supply system with automatic cleaning, to constantly feed the printing units and maintain optimum viscosity, temperature, and pressure. Sealed, pressure-controlled chambered doctor blade systems enable direct, foam-free transfer of ink or coating to the anilox rollers, ensuring a consistently clean printed image.
Company says the system is optimized for fast job changes and the ability to seamlessly integrate the printing operation into the existing converting and assembly line means that customers can avoid the costs and lengthy lead times associated with outsourcing.
This email address is being protected from spambots. You need JavaScript enabled to view it.